The Yashica Mat 124G is a good 6 x 6 twin lens reflex. It is a good choice to discover medium format photography at a low price.
Yashica Mat 124 G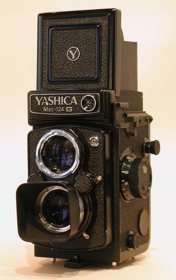 Made by Yashica from 1970 to 1985, this Rolleiflex clone was the last model of a long Yashica twin-lens reflex series. It was introduced when this kind of camera seemed obsolete, but it was a success and it can easily be found in garage sales.

Very pleasant to shoot with, it can use both 120 and 220 rollfilm. Its 80 mm f/3.5 Yashinon lens, though not as good as the Rollei's, can produce very good results. It has a built-in CdS light meter. There are some guidelines on the viewfinder's ground glass. The light-meter uses forbidden 1.35 v mercury batteries but it works OK with today's 1.5v alkaline batteries.

It is a very good entry-level medium format camera.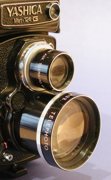 A lens hood is a very useful accessory. Telephoto (picture on the left) and wide-angle converters can be found but are very blurry and have a strong vignetting above f/8 (see sample picture below right).
Use
The Yashica Mat 124 G works smoothly. The controls take the well known Rolleiflex configuration. The viewing screen isn't very clear, making focusing a bit challenging, especially in low light conditions, but is nevertheless very usable. The opening of the viewfinder hood switches the lightmeter on. The lightmeter being quite inaccurate, it is advised to use a hand-held one instead. The film advance crank is terribly noisy.
Characteristics
| | |
| --- | --- |
| Format | 6 x 6cm (120 rollfilm) |
| Lens | Yashica Yashinon, 75 mm f/3.5 |
| Shutter | central, Copal-SV, from 1/500 s to 1 s plus B pose, X and M flash sync, self-timer |
| Exposure modes | manual with built-in meter |
| Weight | 1055 g |