The Zeiss Ikon Super Ikonta is the altar of the folders with its excellent lens, telemeter and light-meter.
| | | | |
| --- | --- | --- | --- |
| | Zeiss Ikon Super Ikonta 533/16 | | |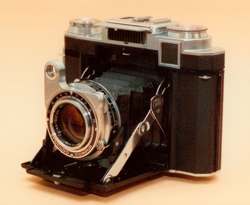 The best folder ever made, the Zeiss Ikon Super Ikonta 533/16 is also the last of this special kind of Mohicans. The one shown on the picture should have been built between 1952 and 1954. It is quite heavy (1.4 kg), deals with all the previous models limitations and has some innovative features of its own.

The 533/16 model uses 120 rollfilm on which one can make 12 6 x 6 cm shots. The lens is a coated 80mm f/2.8 Tessar. The coupled rangefinder is shown in the viewfinder, allowing to focus and compose the picture at the same time. The body is very stiff unlike its bigger format brothers (like the 530/2 model). It has a double exposure prevention system and an automatic exposure counter instead of the usual red window on the back door. The round window above the lens is the rangefinder's prism. The shutter release is on top of the body and not on the lens like on previous models.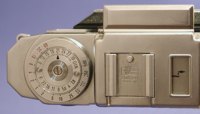 The rectangular window on top of the body is an uncoupled selenium light meter. It works without batteries and shows the correct aperture-shutter speed combinations. It is accurate enough for print film.

Built to the highest standards and with good ergonomics, this camera remains a great shooter which produces very good pictures.
| | | |
| --- | --- | --- |
| | Characteristics | |
| | |
| --- | --- |
| Format | 6 x 6 cm (120 rollfilm) |
| Lens | Zeiss Tessar, 80 mm f/2.8, coated |
| Shutter | central, Synchro-Compur, from 1/500 s to 1 s, B pose, X and M flash sync, self-timer |
| | | |
| --- | --- | --- |
| | Sample pictures | |
| | | |
| --- | --- | --- |
| | Links | |