The Nagel 33 is a high-end 9 x 12 cm camera but is difficult to use.
| | | | |
| --- | --- | --- | --- |
| | Nagel 33 | | |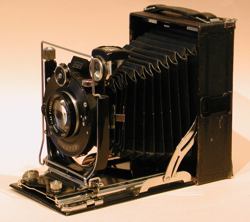 Fitted out with a Schneider - Kreuznach Xenar with horizontal and vertical shift, this camera uses 9 x 12 cm sheet film. It has three viewfinders : one made of two steel frames, a waist-level finder and a ground glass. A little spirit level is mounted on top of the lens but it is more an element of decoration than a usable feature. The bellows can be extended twice the length of the camera's door for close-up work. Its very poor ergonomics make it difficult to use but its very good lens and the size of the negative are worth the effort.
| | | |
| --- | --- | --- |
| | Characteristics | |
| | |
| --- | --- |
| Format | 9 x 12 cm sheet film |
| Lens | Schneider - Kreuznach Xenar, 150 mm f/4.5 with horizontal and vertical shift |
| Shutter | central, Compur, from 1/200 s to 1 s, B and T pose |
| | | |
| --- | --- | --- |
| | Accessories | |
| | | |
| --- | --- | --- |
| Carrying bag and film holder | Clip-on yellow filter and case | |