The Lomo Smena Symbol is an evolution of the 8M which adresses its main issues.
| | | | |
| --- | --- | --- | --- |
| | Lomo Smena Symbol | | |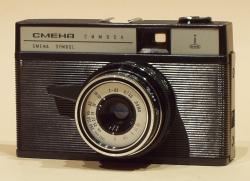 Made from 1971 to 1993, the Lomo Smena Symbol is a very simple Soviet compact camera without rangefinder. It keeps the poor 40 mm f/4 T-43 lens and the pictogram-based distance and shutter speed settings of the Smena 8M. Film speed is still set with the diaphragm. It is otherwise a quite different camera.

The albada viewfinder has no focusing or parallax indications of any kind. The 6 leaves central shutter is of average quality, giving speeds from 1/250 s to 1/15 s with B pose and flash sync at all speeds. The flash shoe has a hot contact. The body is made of metal and covered with plastic and the back is completely made of plastic with a built-in film speed reminder.

The Lomo Smena Symbol introduces noticeable enhancements over the 8M. Film advance and shutter cocking are made with a single-stroke lever, avoiding the double exposure risk. Film rewinding is made through a crank instead of a knob. The frame counter is enhanced and resets automatically when the back is opened. The setting pictograms are bigger and more easily readable. The release button is much more convenient too.

Overall, notwithstanding the light leaks, the Lomo Smena Symbol is almost usable.
| | | |
| --- | --- | --- |
| | Characteristics | |
| | |
| --- | --- |
| Format | 24 x 36 mm on 135 film |
| Lens | 40 mm f/4 T-43 triplet |
| Shutter | central, 1/250 s to 1/15 s, flash-sync at all speeds |
| Exposure modes | manual |
| Weight | 360 g |
| | | |
| --- | --- | --- |
| | Accessories | |
| | | |
| --- | --- | --- |
| Carrying bag | | |